Please Note: This article relates to both the TM2 and TM3 versions of the desktop software.
If an issue has appeared with a client regarding an invoice that still has an amount left on it and you need to write the invoice off, please follow the step by step guide into doing so if you are unsure.
---
Step 1:
Search for the customer that you want to write off the invoice for and open up their account. When it the patient overview opens, please click on 'View Account'.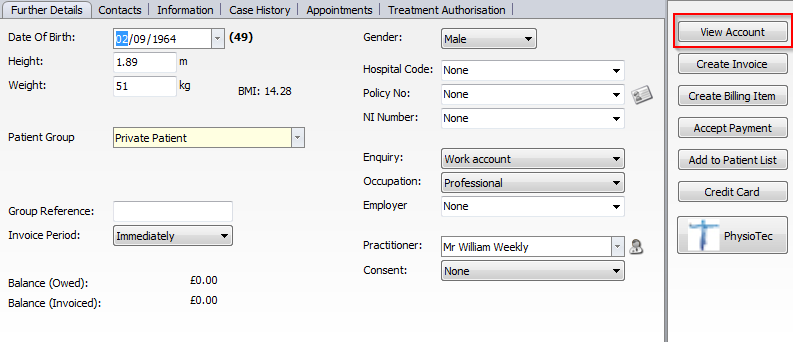 ---
Step 2:
This will open up the Account Details window. From here you will be able to see all the invoices and payments that has happened on their account. Click on the invoice that has not been paid and choose the 'View' option.

---
Step 3:
When the Invoice Window has appeared you will notice that an outstanding amount is shown at the bottom. This will be the fee that we are going to write off.

From here, click on the 'Write Off Remaining' option in order to write off any remaining debt.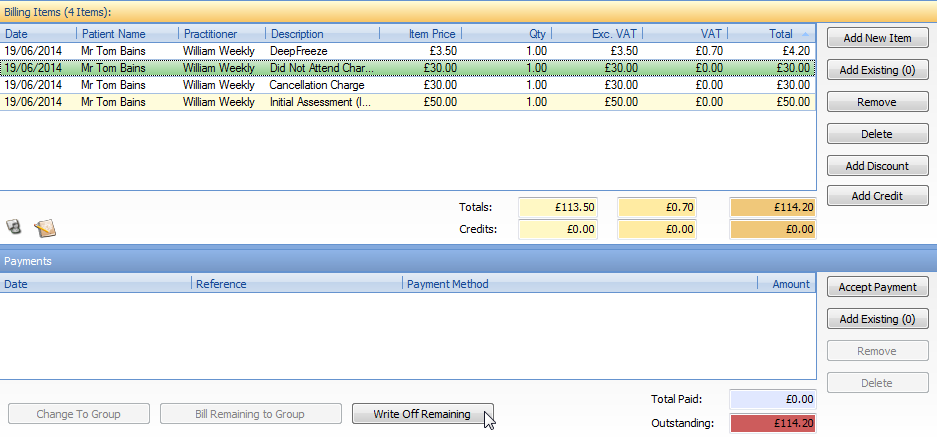 ---
Step 4:
Once this has been clicked, you will see a small box appear. From here, you can enter in the amount of VAT is necessary. Once you are happy with your selection press the green tick. If you change your mind at this point, you can press the red cross to cancel the action.

---
Step 5:
A window will now appear asking you to confirm if you would like to write off the remaining amount of debt.

Click on Yes. You will be taken back to the Invoice Window. You will now notice that the outstanding amount at the bottom of this page is now at £0.00. The debt has now been written off for this patient.
---