Please Note: This article relates to both the TM2 and TM3 versions of the desktop software.
Open TM2/TM3 and click on the Practitioner icon located within the main tab.
Once you have clicked on 'practitioner', you will be presented with the practitioner search window. From here, you will see a list of the practitioners that currently work for your clinic.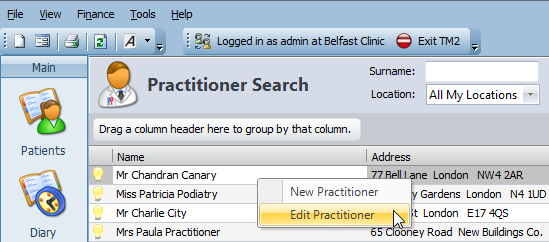 Right-Click on the practitioner that you want to change the working hours for and choose the Edit Practitioner option. This will then open the Edit Practitioner window.
From here, you will need to click on the Sessions tab found at the bottom of this window.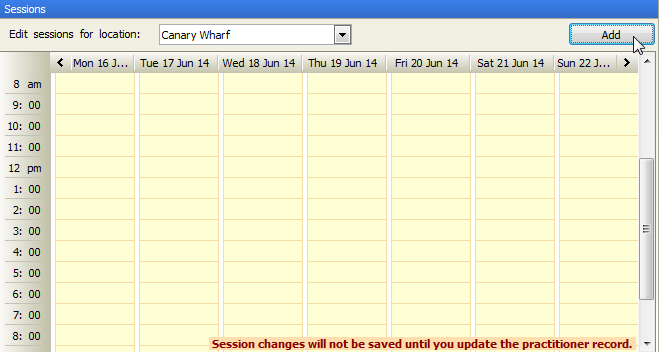 You will be presented with a timetable with the ability to add the practitioner hours. Click on the Add button to open the Add Session window.

Choose the day of the week you would like the session to fall on and the time range you want the session to run. You can also click on the Used For drop-down menu to choose what the session will primarily be used for. You also have the ability to Color the session to make it stand out easier.
Special Sessions
If you have a session that reoccurs on a regular basis but with a pattern, you can also make use of the Make Special Session check box. When you click on this, you will be presented with a number of options.
You can set the Recurrence Pattern to either count the session as a one-off, weekly or monthly session. On the Recurrence Span window, you can also set when the appointment starts along with how often it should repeat itself.
Once you have set up your session, press the Add button.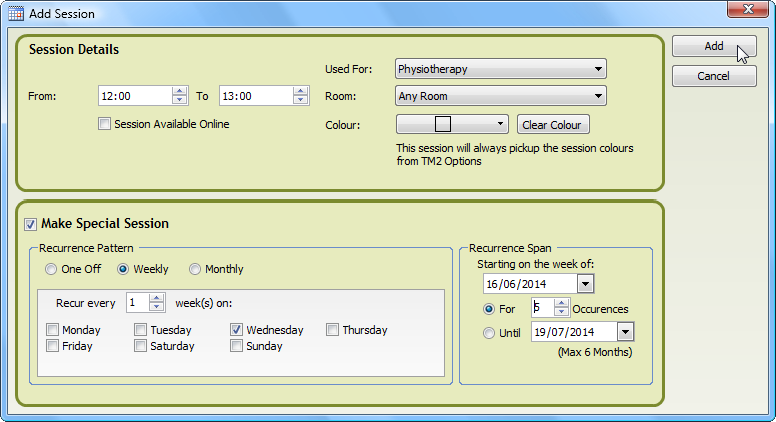 You will now notice that the appointment is logged within your sessions window.