Please Note: This article relates to both the TM2 and TM3 versions of the desktop software.



Setting up Practitioner Specialisms
In cases where you have multi-disciplined staff (Physiotherapist, Chiropractor, Sports Massage, Osteopathy) it's important that these differently qualified persons are easily identifiable. It might well be that the users in the house know who people are and what they do but for use with Pronto is important that external sources (Insurance Providers) can pick out the correct provider for the desired appointment type.
Failure to complete this setup accurately can result in bookings being made incorrectly or not at all. For example, you have not defined your Specialisms which will mean that the external booking source (Insurance Providers) cannot determine the treatments you provide and will likely provide the booking to the next closest clinic that can have their services identified. In short, not completing this will cost you bookings.
While not all referral sources will use this information those that do will require it. There is no negative to providing as much information as possible.
TM2 and TM3 are built to handle this with the use of Specialisms.
---



Set Up



The first thing to do is create within TM2 all of the different Specialisms that your staff provide. This is accessed from the Tools, TM2/TM3 Options selection along the top of TM2/TM3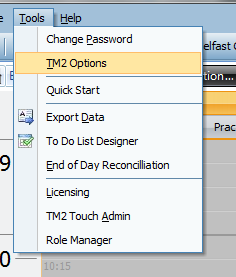 NOTE - You will need to be an admin user to have access to the items below.
Once into TM2/TM3 Options select the Lookups & Labels menu on the left and select the Practitioner Specialisms from the menu. You would type the desired Specialism into the box on the right, for example, "Osteopathy" and then press the Add New Lookup button. Repeat the step above for all of your Specialisms.
See below for reference;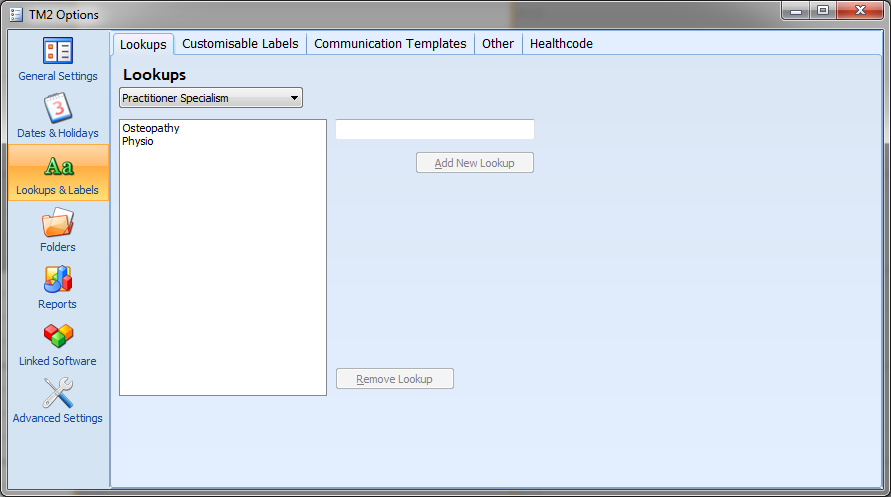 Once added the next step is to "link" these to the Practitioners. Close the TM2/TM3 Options form and open the Practitioner desktop from the Main menu. Perform a search and find the record you wish to adjust first, double-click to open it.
Select the Information tab (along the bottom) and you should see something similar to the screen below;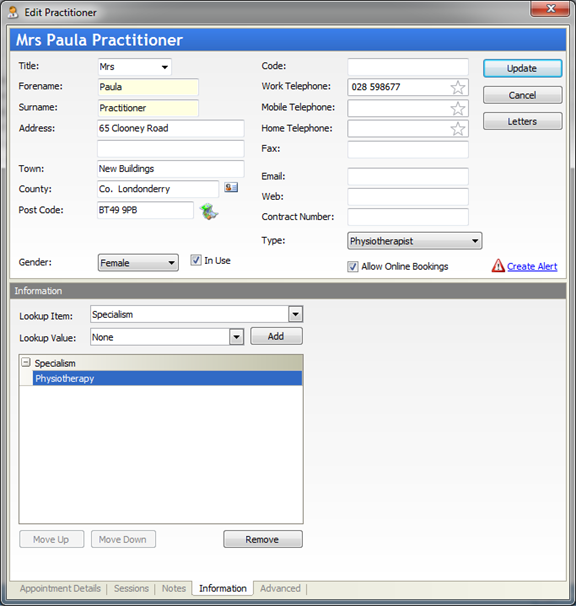 You can see from this example that this Practitioner is marked for Physiotherapy. To add a new Specialism to the record expand the Lookup Value menu dropdown and select the desired value and once selected press the Add button to link it. The value will appear in the larger area below

Above you can see the previously added Osteopathy Specialism and below how it looks when the Specialism has been added.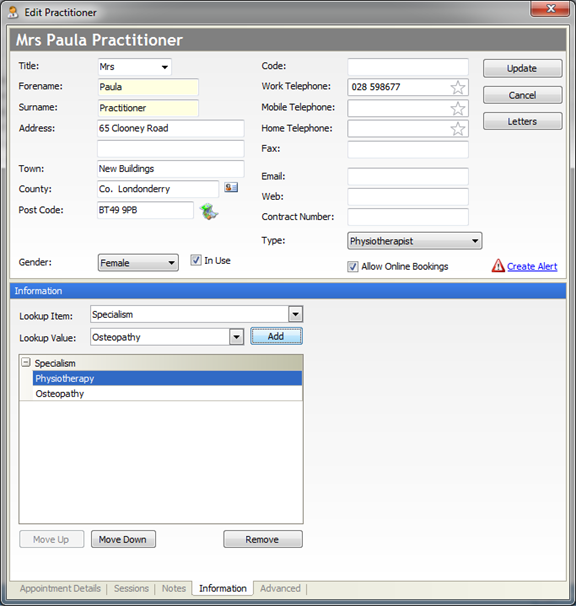 You would repeat the above steps until all of the desired Specialisms and again for each Practitioner record.
Once you have added this that's all you need to do. This information will automatically synchronize with the 3rd Party and they will be able to determine your Specialisms on a per Practitioner basis and therefore book the correct appointment type with the correct person.
---