Please Note: This article relates to both the TM2 and TM3 versions of the desktop software.
Open TM2 and click on the Diary button on the left side of the TM2 window.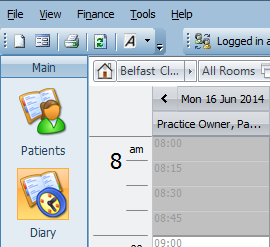 When the diary screen has opened, you will notice a toolbar along the top of it. Click on the Options button that has the small cog wheels icon beside it. This will then open up a sidebar menu with more features and access to the diary.

Within the sidebar, you will notice a re-order practitioners button. Click on this button to open the Set Practitioner Order window.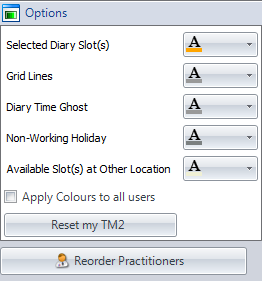 From inside this window, you will see all of the practitioners that are currently registered through TM2 to your clinic. Simply click on the practitioner that you want to move and make use of the up and down arrows to shift them through the list. When you are happy click on the Save button.