Please Note: This article relates to both the TM2 and TM3 versions of the desktop software.
Physiotools can be integrated with TM2 in order to make use of the built-in exercise programs made available by Physiotools.
In order to link Physiotools with TM2, you will first need to get in contact with Physiotools themselves.
Details on how to contact Physiotools can be found at their website at http://www.physiotools.com/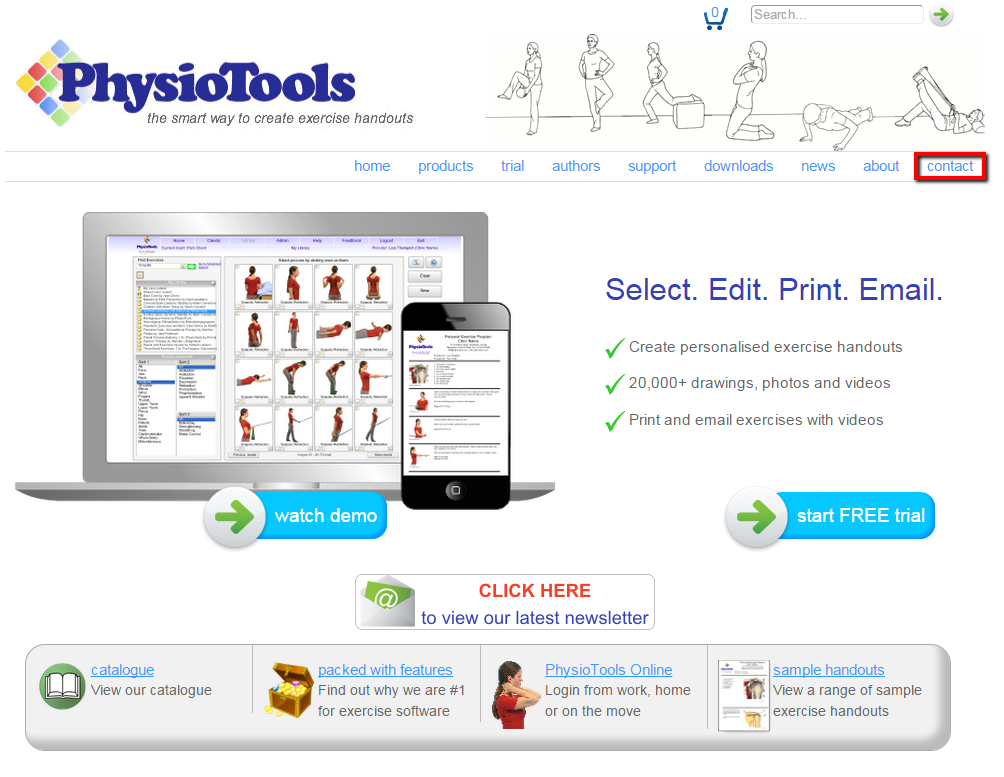 Once registered with Physiotools, you will be given a Username and Password as well as a download for Physiotools.
Or you can download it from here: http://www.physiotools.com/PhysioToolsConnector
Once this has been installed on your system you will need to open Physiotools and configure it. Navigate to where Physiotools has been installed to on your computer (most likely in C:\Program Files (x86)\PhysioTools) and open the PTWIN file.
This will then bring up the below and you will need to select Configure
The next screen will ask you to enter in all your PhysioTools details
You will then need to link Physiotools to integrate with TM2.
Go to Tools > TM2 Options > Linked Software > Physiotools
You will then see the below screen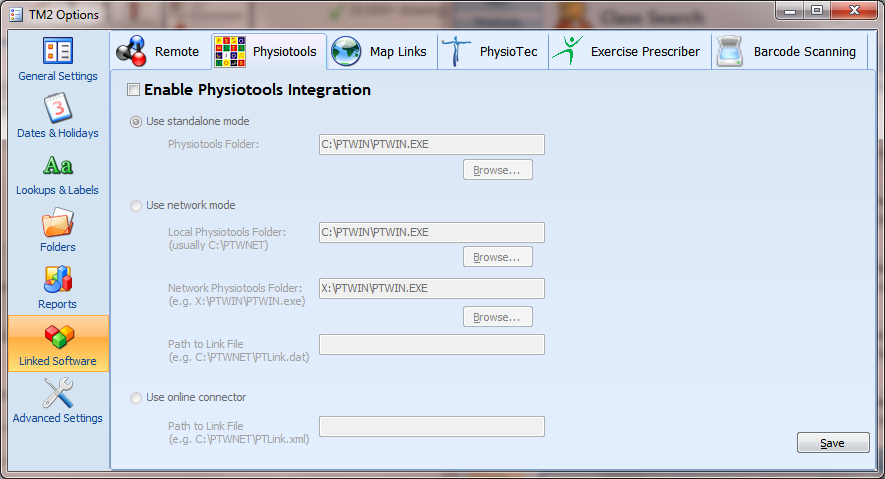 Click on the Enable Physiotools Integration button and choose the Use Network Mode.
You will now need to link the Local Physiotools Folder. Click on Browse and locate the area in which Physiotools was installed to. It will most likely have installed to the following file path "C:\Program Files (x86)\PhysioTools\". The Physiotools folder will be called PTWIN. Once inside this, click on PTWIN.EXE and press OK.
You will next need to link the Network Physiotools Folder. This is the same folder as previous. Press Browse again and locate the PTWIN folder. Open this and choose PTWIN.EXE again.
The final folder that will need linked up will be the Path to Link File. This will be in the same folder as the previous two paths we have set. This time, we are choosing the PTLink.dat.
If the PTLink.dat file doesn't exist try launching Physiotools from the patient record first of all. This should then create the file.
Once this information has been setup, press Save.
Physiotools will now be saved on TM2. To make use of Physiotools, open a patient record and click on the Physiotools button. Physiotools will now launch.