Please Note: This article relates to both the TM2 and TM3 versions of the desktop software.
The following setup and options will require the "System User" to organize, due to the nature of this process.
(The main server computer would require updated first for local users)
For a full explanation of user levels, please refer to the user levels guide located Here

Updating Your TM2/TM3
To update your TM2/TM3, please follow this simple process in order to update your TM2/TM3 software successfully.
Local clients, please note: Ensure you run a Database backup on the server machine prior to the update.

You can do this by logging in as the admin User (System User)
Select Tool's along the top of your TM2/TM3 desktop

Click on TM2/TM3 Options


Advanced Settings




Backup & Restore



"Backup Database Now" -

LOCAL CLIENTS ONLY
**Before running the update, Exit TM2/TM3 then Right Click on TM2/TM3 Icon and "Run As Administrator" prior to updating**​
On the Login Screen under "Your License Details"
You will see a highlighted box saying "Updates Available
Click Updates Available (Shown below)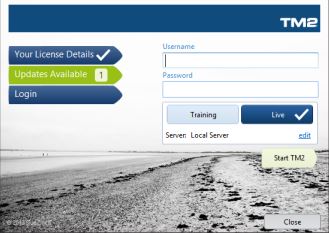 (Once you have selected this, you will see the below options)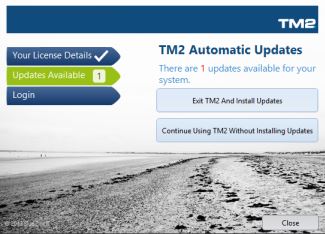 Click on "Exit TM2/TM3 And Install Updates"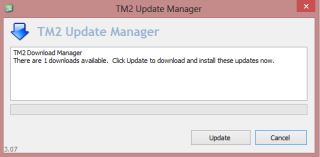 This will bring you into the update manager itself, shown above.



Select "Update"
Please Note: This update may take up to 10 minutes to complete.
When this has completed the update button will switch to "Launch TM2/TM3" press this to launch TM2/TM3.
Updates can include important fixes or modifications and it is always important to keep up to date with these.
If you would like to know what an update contains, support can provide you with a set of release notes.
---