Please Note: This article relates to both the TM2 and TM3 versions of the desktop software.
All users within TM2 can change their own password.
Firstly, from anywhere inside TM2, click on the 'Tools' at the top right, and from the drop-down list click 'Change Password'.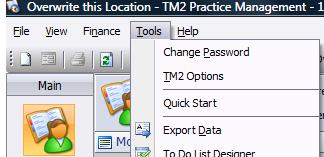 This will bring up the screen shown below. You will need to enter your old password, your new password and then confirm your new password. When you are typing in your new password you will get a strength indicator bar that will tell you the strength of your password. You will only be allowed to change your password whenever the bar turns green and says 'Strength: Good.'
If you need help picking a good password click on 'Help - I can't pick a good password' and this will bring you to an article to help you pick a good password.
You must complete all fields and then click ok. This will save your password, which you will be asked for the next time you log into the TM2 system.
---
If you found this page useful please rate below.